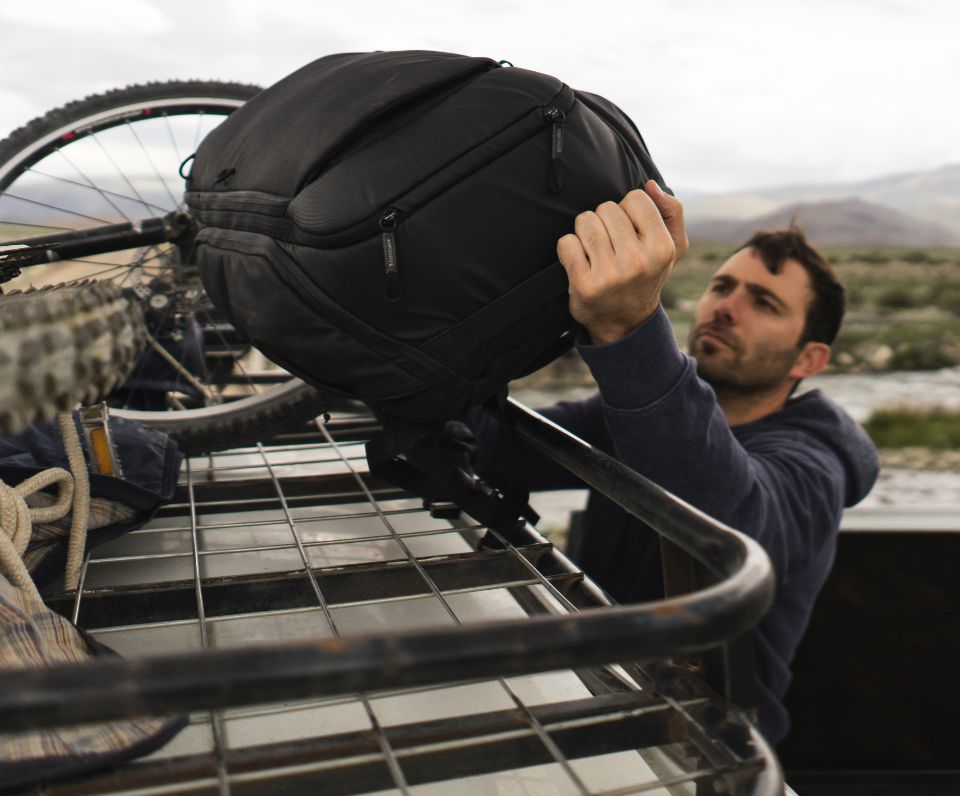 "Having been on production crews that traveled overseas to film, I have a lot of experience in the art of packing a lot of camera equipment into backpacks. The engineering and design of this bag maximizes the amount of space available and it is THE ONLY bag I would use for one bag travel."
DAVE
Mar 9, 2020
"I have so far been on 3 weekend hiking trips with the bags being slammed full of camera gear and clothing and it has performed faultlessly every time I've needed to retrieve anything from the bag, whether it's still on my back or on the ground. The quality will remain long after the price is forgotten."
FRANK CARIDI
Feb 25, 2020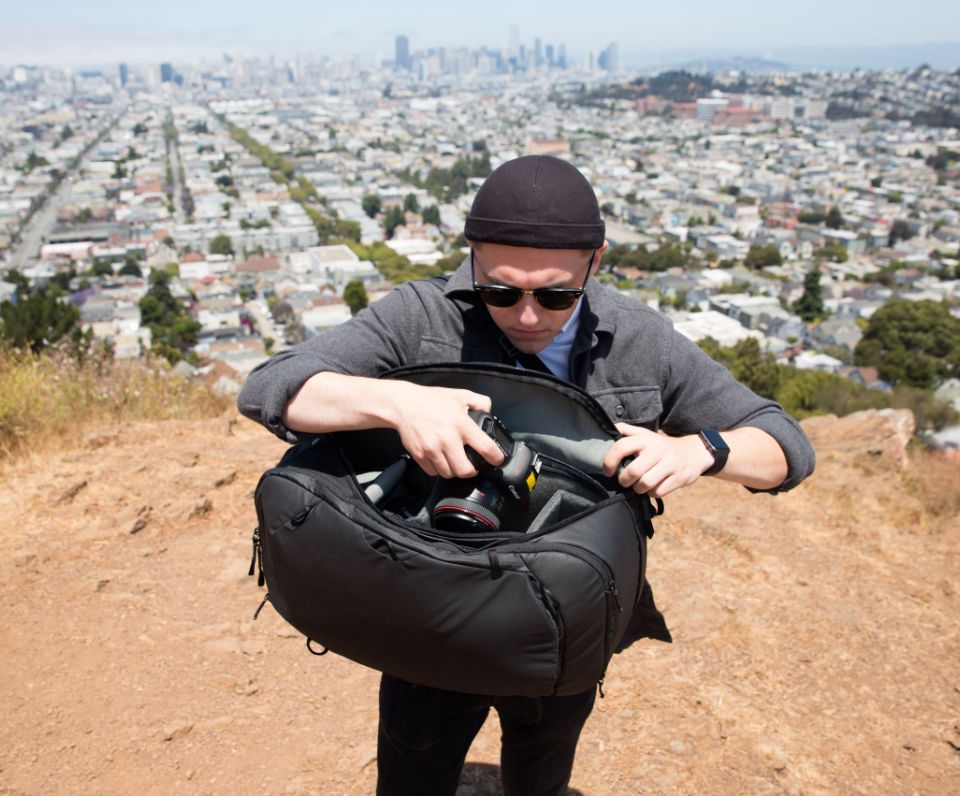 "I've seen a number of bags that claim to offer a lot of options, but once you actually get it you realize none of them really do any of those things all that well. This bag knocks it out of the park with every little detail. It's obvious that a lot of care and thought went into the creation of this bag."
LEVI
Feb 16, 2020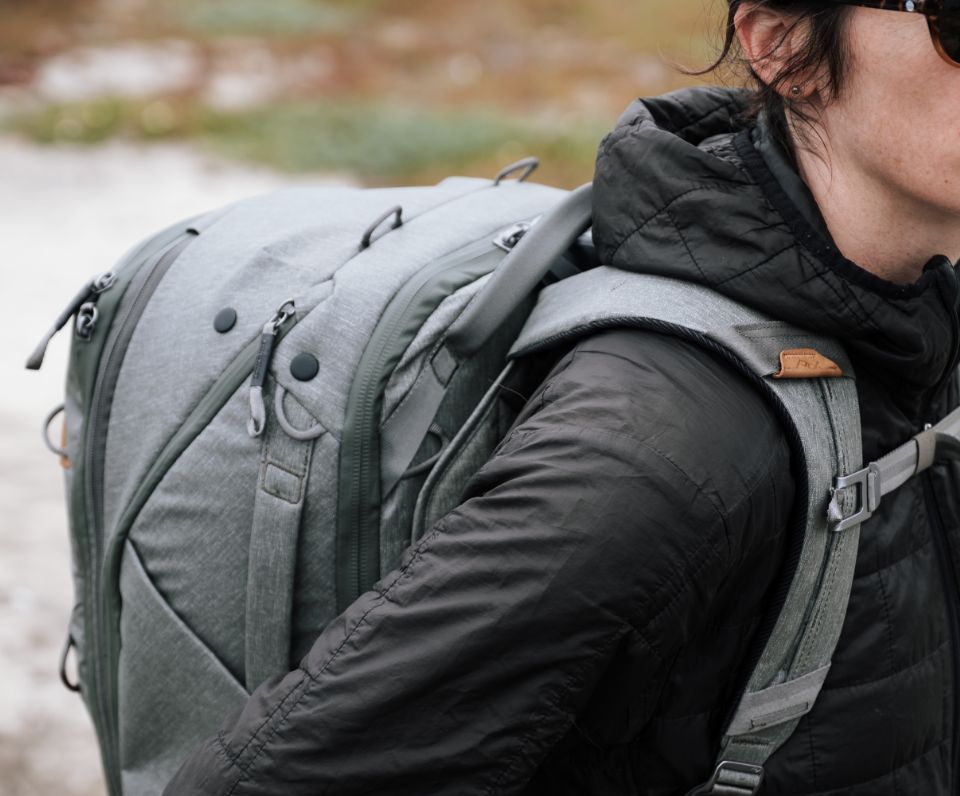 "Seriously why didn't someone think of this brilliant idea years ago? It would have saved me 3 stupid purchases of wheeled monstrosities. The bag is easily packed, beautifully designed, quality-made, and adjusts to every need I have. Make sure you remember the name because people are going to ask you what you have and where you got it."
KATHY
Feb 5, 2020
ONE BAG TO RULE THEM ALL
The 45L Travel Backpack debuted at the Outdoor Retailer show in 2018 and promptly won three best-in-show awards. Why? Perhaps because it was designed to do everything for everyone. 2-week journey? Check. Weekend jaunt? Check. Daypack? Check. Camera bag? Check. No two trips are the same, so get a bag with the versatility to do them all.
COMPARING TO THE 30L?
The 45L is better for:
1-bag-travel for trips 4 days and longer
More access and organization options
Trips where you need multiple jackets, pairs of shoes, or other bulky clothing
Carrying camera gear: better compatibility with PD Camera Cubes, plus dual side access.
TRAVEL READY
International carry-on approved
Theft-deterrent zipper pulls
Protected luggage tag holder
Luggage pass-through for roller bag carry
Padded shoulder & waist straps stow under magnetic flaps for worry-free bag-checking
ULTIMATE ACCESSIBILITY
Huge rear access via burly #10 UltraZip
Dual side access via burly #10 UltraZips
Front zip panel for additional access, storage, & organization
HUGE CAPACITY
Expansion zips for fitting more or compressing your load
External carry straps stow beneath a magnetic flap
SPACE FOR EVERYTHING
Hugely expandable side pockets for water bottles, tripods, more
Soft-lined zippered top pocket for keys, glasses, passport, etc.
Internal zippered mesh pockets
Padded, dedicated laptop and tablet sleeves
ALL-DAY COMFORT
Stowable hip belt
Axial strap attachments provide all-day comfort for all body types
Stowable sternum strap
360-degree grab handles
RUGGED PROTECTION
Weatherproof 100% recycled 400D nylon canvas shell
Rugged 900D waterproof bottom liner
Ultralight padded foam provides security and structure around entire bag
High-visibility grey interior
SUSTAINABLY BUILT
Fair Trade Certified
100% carbon neutral
Lifetime guarantee
PD TRAVEL ECOSYSTEM
Designed to fit Peak Design Packing & Camera Cubes (fits 3 units with space for additional smaller things)
DIFFERENCES VS. 30L
More access points: rear, side, and front access zips
Dividable main volume: internal divider sleeve zips up to creates 2 compartments when needed
Integrated hip belt: stowable padded hip belt for heavier loads
Compressible: compression snaps slim down the profile for use as a day bag
Hidden pockets: 2 hidden external zip pockets for cash, passport, etc.
Room for more: room for 3 units of PD cubes, plus bonus space for pouches, jackets, shoes, etc.
More photo-capable: fits camera cubes in un-expanded state, and allows quick side access to cameras and lenses
What is in the box
1x 45L Backpack
2x Cord Hook external carry straps
1x stowable sternum strap
SKU/PART NUMBER
BTR-45-BK-1 (Black)
BTR-45-SG-1 (Sage)
EXTERNAL DIMENSIONS
Standard: 56cm x 33cm x 24cm (22" x 13" x 9.5")
Compressed: 56cm x 33cm x 24cm (22" x 13" x 9.5") (compression only happens at the top of the bag. 6" at top when compressed)
Expanded: 56cm x 33cm x 29cm (22" x 13" x 11")
INTERNAL DIMENSIONS
Standard: 53.3cm x 33cm x 16.5cm (21" x 13" x 6.5")
Compressed: 53.3cm x 33cm x 14cm (21" x 13" x 5.5")
Expanded: 53.3cm x 33cm x 19cm (21" x 13" x 7.5")
CAPACITY
Standard (max carry-on): 35L
Compressed: 30L
Expanded: 45L
PD PACKING/CAMERA UNIT CAPACITY
3 units + bonus space
LAPTOP/TABLET CARRY
Laptop: 40.6cm x 30cm x 2.5cm (16" x 11" x 1")
Tablet: 24cm x 19cm x 1.5cm (9.5" x 7.5" x 0.6")
Fits 2021 Macbook Pro 14" and 16" models
WEIGHT
2.05 kg (4.5 lb)
MATERIALS
Weatherproof 100% recycled 400D nylon canvas external shell. DWR impregnated and double poly coated for water resistance. Sage fabric is Bluesign approved.
900D waterproof bottom liner
High-visibility grey nylon interior
Hardware is anodized aluminum and glass-reinforced nylon
Super-durable UltraZips with abrasion-resistant UHMPE thread
Leather accents (Sage only) are Gold Certified by the Leather Working Group
Hypalon zip pulls and reinforced stress points
Enter your information below to be notified when Travel Backpack 45L is back in stock. See our stock article for additional information.